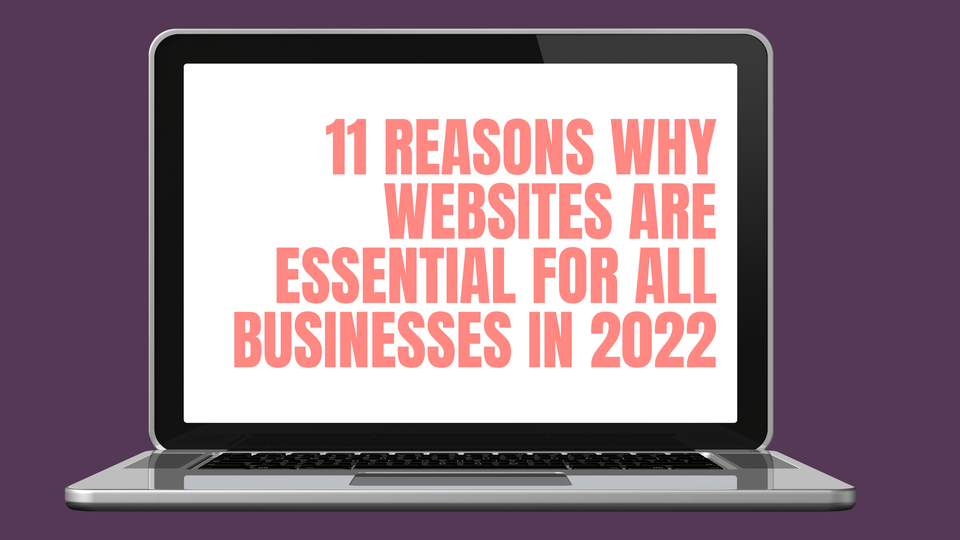 What's the single most important way to promote a business?

When it comes to business marketing, there are a thousand and one ways to do it. From traditional advertising to search engine optimization, sky's the limit as to the combination of marketing methods that work best for a business.

And whatever strategy someone uses to promote their business, they could easily pour their entire marketing budget into it if they aren't careful. So what's really most important for marketing a business?

With the surge of online shopping in the last few years, having a website is the most straightforward answer.

But maybe you aren't sure why businesses need a website. Or perhaps you're looking for advice about business websites and how they're going to be necessary in 2022.

Either way, you've come to the right place. This article will disclose 11 compelling reasons why every business needs a website in 2022.
 
 
1. Customers Do Research Online Before Buying
 
Most people, in fact 97% of consumers do research online before getting in touch with a business. As their first course of action, customers want to learn more about a business including check products or services offered and read reviews.  If your business has a prominent website with great SEO and a content marketing strategy, you'll improve the chances of customers finding you over the competition.

For these reasons, your clients will need a well-designed website that can be easily discovered in Google search results. From there, it's simply a matter of putting helpful content and clear contact info on that site.
 
 
2. Businesses Must Keep Ahead of Competitors
 
No matter what kind of business you are in, it's almost certain your competitors have websites. Businesses have to consistently be innovative to avoid being outpaced by direct competition.

One of the best ways businesses can overshadow their competitors is to showcase their products or services on their website in a way that is attractive and compelling. Better yet,  adding an ecommerce element to their website could help bring them more business and a new outlet for additional revenue.

For businesses that don't have websites already, getting online should be their first priority.
 
 
3. Websites are Inexpensive and Effective
 
Compared to traditional advertising, having a website built and maintained is very affordable. It's also far more effective than the marketing methods some people try to use without websites, such as lawn signs, direct mailings, billboards, and print advertisements just to name a few.


The point is, just about any business can afford to get online. In fact, in today's connected world, no business can afford not to be. Web hosting and development services are well within the budgets of most businesses.
 
 
4. Well-Designed Sites Inspire Trust and Credibility
 
People today are wary of potential scams and subpar services. They also want to know as much as possible about something before they get themselves or their money involved.

That being the case, a business that doesn't have a website can make people uncomfortable. Without being able to learn a little about the brand and its services, they feel like they can't make an informed decision.

A badly designed website isn't much better. Poor quality photos, a dated design, slow load times and lack of quality content implies poor management and a lack of professionalism. Fortunately, BloomiDesign is here to help create something amazing for your business!
 
 
5. Customers Demand Quick Access to Information
 
If there's one thing that's in short supply nowadays, it's patience. People want answers to their questions the moment they ask them—if not sooner!

Relevant business information must be stored online where people can find it. Days and hours of operation, available services, product selection, experience and credentials, and more are all important online.

It's not uncommon for small businesses to use a Facebook page or Yelp listing to promote their business information. However, there are three problems with this.
 
- You have little control over what information is displayed or shared on a third-party platform.

- It's not wise to depend solely on a third-party platform for your business's visibility.

- Customers want to be able to search for a company and view an official website with information they can trust.
 
6. Sites Let Businesses Control How They're Perceived
 
When you run a small business, it's important to showcase your products and services in the best possible light. If you can convince potential customers that your services are worth the cost, you can scale your business indefinitely.

A problem small businesses often run into, however, is failing to portray themselves favorably. Bad photography, poor design, and subpar copy can all contribute to a negative image of a business as unprofessional or amateurish.

BloomiDesign can solve this problem by helping small businesses come across in the best way possible online. Our passion is creating affordable, aesthetically appealing and professional websites.
 
 
7. Websites Allow Businesses to Own Their Audiences
 
We mentioned earlier that it's typically unwise to rely on a third-party platform for your online presence. Likewise, it's a bad idea to let social networks control your audience by focusing your promotional efforts there exclusively.

Instead, a business should attract people to its own website and build a profitable email list. By doing so, businesses can directly communicate with their clients and potential customers to keep them apprised of what's going on with their business such as information about special deals, news, and updates.
 
 
8. Site Analytics Make It Easy to Know Your Audience
 
Just like owning your audience, knowing who they are and how they interact with your brand is important.

Analytics on social media sites can be limited and confusing. But using analytics to monitor traffic on your website is a convenient way to understand your visitors.

Website analytics can provide helpful details to the business owner about how frequently their site is visited and what actions consumers make while on their pages.

All of this information can work together to paint an informative and useful picture of the average customer.

 
9. Great Websites Help Businesses Stand Out
 
For businesses of all sizes, the more ways they can stand out from the competition, the better.

If a small business feels like a carbon copy of its competitors, people won't know why they should choose them. Even worse, without a business website, most people won't be able to learn much about them to begin with.

Website copy, brand design, and adding a company's mission statement along with authentic photos from the business  are great examples of how to make a brand stand out and give a business personality.

 
10. Websites Can Show Credentials and Social Proof
 
A serious business owner or service provider needs to show off their experience and credentials to prove their value. Some sole proprietors use business cards or flyers to convey this information. But websites are far more effective.

Besides displaying relevant credentials and experience, a business website can collect and display customer testimonials to help build credibility. This is one of the most important things you can do to increase trust in a brand.

 
11. Great Sites Answer Customer Questions Easily
 
No business owner likes answering the same questions every day. At a certain point, it becomes exhausting—not to mention a waste of time. Websites are great for putting all of the most common questions and their answers in one place.

This is good for customers as well as business owners. As we mentioned before, people like to find the information they need online before reaching out to a business. If they can get all their questions answered that way, all the better.

With business websites, it's important to think about the customer and the type of information they want upon visiting the page. Once those details have been identified, make them highly visible on the business's homepage or easily accessible by use of the navigation resource. For added support, create a comprehensive, Q&A section that is featured prominently on the site.
- Kristie
Owner/Designer of BloomiDesign